Overview
USB over Network is a user-friendly application that enables you to access USB devices over LAN or the Internet.
The program allows working with remote USB devices over a regular TCP/IP connection. It provides you with easy and reliable way to share or get remote access to USB devices.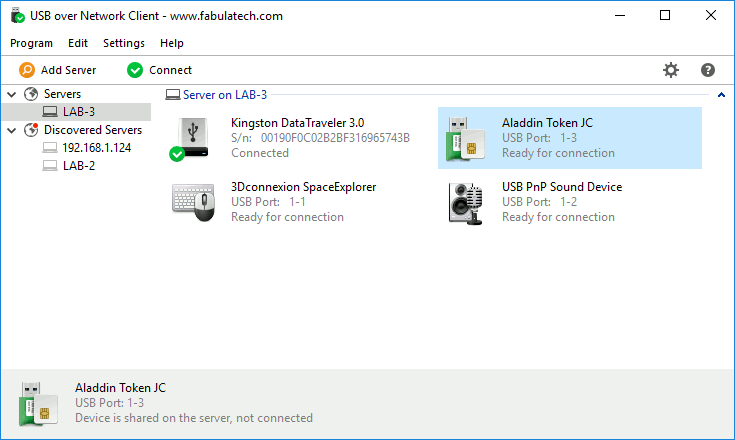 How it works
The program consists of two components that have to be installed on both local and remote computers.
As soon as you install USB over Network Server you will be able to share USB devices over any network. When you connect the remotely shared USB devices to the computer with USB over Network Client installed, they are recognized by its operating system as if they were attached directly to it.
You can share any USB device with any computer that has USB over Network Client. The shared USB device can be connected to one computer concurrently.
USB over Network is a software-based solution designed to share USB devices over LAN or the Internet. FabulaTech virtualization technology fully emulates remote devices on the client side creating the exact copy of the shared hardware USB device.
Don't worry, your USB device will do! USB devices are not limited to certain types.
Auto-sharing feature allows sharing all USB devices over TCP/IP automatically at the moment you plug it in.
The auto-sharing feature is very convenient in most cases but there are such situations when you don't want some particular USB device to be shared automatically. You can simply blacklist it and the device won't be shared.
USB over Network now has the feature of USB port sharing. It means you can set the software to share a particular USB port and any USB device plugged into it will get shared automatically. This won't affect other USB devices plugged into other USB ports.
When auto-connection is activated, it allows connecting to the client machine over TCP/IP automatically all the USB devices which have been shared on the server computer.
USB over Network Linux offers you a unique and convenient feature that allows you to share plugged in USB device and still have it accessible on your local computer. As soon as any remote Client PC connects to such a device, it becomes unaccessible for usage on the local machine.
SSL Security layer protects your private information and keeps your data highway safe. The information transmission over a data channel protected with SSL protocol will be secure during the process.
USB over Network is 64-bit and 32-bit compatible. It provides you with easy and flexible way of migration between 64-bit and 32-bit operating systems. You can work as in homogeneous as in heterogeneous environment.
Hyper-V Compatible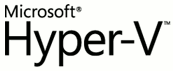 USB over Network is completely compatible with Microsoft Hyper-V virtualization system. Read more…
OEM License Benefits

USB over Network functionality can be easily integrated into your application. So you can share USB devices or connect them up from your application directly. Read more…