Product Name And Tagline
14 words, 81 charachters
USB over Network Share and access USB devices over local network or the Internet.
Short Description
75 words, 443 charachters
USB over Network is a software solution that allows you to access remote USB devices over a TCP/IP network or the Internet, as if the devices were directly connected to your computer. USB over Network aims to simplify the management of USB devices by making one device accessible to multiple computers on a local network or enabling users to share devices with others in different locations, whether in another office, city, or even continent.
Bigger Description
101 words, 577 charachters
USB over Network is a user-friendly application that enables you to access USB devices over LAN or the Internet. The program allows working with remote USB devices over a regular TCP/IP connection. It provides you with easy and reliable way to share or get remote access to USB devices. As soon as you install USB over Network Server you will be able to share USB devices over any network. When you connect the remotely shared USB devices to the computer with USB over Network Client installed, they are recognized by operating system as if they were attached directly to it.
Large Overview
752 words, 4562 charachters
Overview USB over Network allows to use remote USB devices shared over a local network or the Internet. It does not matter if you are located in another office or even country, now you can use any USB device remotely as if it was attached to your computer locally. How it works The program consists of two parts — Server and Client. The Server part is installed on a computer where USB devices are physically plugged in, making it possible to share the devices for remote connection. The Client should be installed on computers where you need to get access to remote shared USB devices. When you connect remote USB device using a Client part on your PC, it appears as if the device was attached directly to your computer. Real USB virtualization technology Thanks to many years of research and development we were able to release unique USB virtualization technology. It fully emulates the USB stack of remote USB devices on the client side creating the exact virtual copy of each shared hardware USB device. Works with any USB devices The program is not limited to some specific models of USB devices. It is compatible with any of them. So, it is really universal solution for the remote access to USB devices. Even the most exotic USB devices can be accessed over network or the Internet. Supports all major operating systems USB over Network supports Windows, Linux and macOS. Any Windows or Linux machine with the Client part installed can access remote USB devices shared on Windows, Linux or macOS where the Server part is installed. Driver-free solution USB over Network does not require USB device drivers on the Server side. This feature really simplifies everything, since it allows to share USB devices even when their drivers was not installed locally (or in case if the device is not supported by Server side OS).Keep in mind, that USB device drivers are required on the Client side anyway. USB port sharing In some cases it is really convenient to use some dedicated USB port for device sharing.So any USB device being plugged into it becomes shared automatically. This won't affect other USB devices plugged into other USB ports. All your data is secure USB over Network transfers the data directly only between Client and Server program parts, that are installed on your computers. It doesn't connect to FabulaTech or any third-party servers. The only exception is optional checking for new versions, therefore it is fully functional even without Internet access. Secure Sockets Layer (SSL) can be configured for establishing an encrypted link between a Server and a Client. And to protect sensitive data even more, password protection can be used for each individual USB device and the whole Server as well. Also, we can teach customers how to forbid or allow flash drives, webcams etc. And for uncompromising security we can build a version that connect only certain class of devices, upon request. Reversed device connections Sometimes it's needed to initiate device connection from Server side to Client side. So instead of connecting remote USB device, end user can "push" the local USB device to the remote computer. The call-back connection feature is especially useful in case if the Server is behind a firewall or on a NAT network. Per-interface sharing There is a possibility of per-interface sharing for composite devices that usually contain several USB devices. For example, if you use the webcam with built-in speaker, it's no problem to share the webcam for remote access but leave the speakers for local use only. Advanced sharing rules The system of Sharing Rules allows fine-tuning of the sharing process both of the concrete device and of the group of USB devices with the same characteristics. Built-in Sharing Rules Manager makes the process of rules creation really easy. USB server auto discovery USB over Network Client can discover USB Servers installed in your local network. So, in most cases, it's even not needed to specify remote IP address or hostname of the Server. Just choose the needed server from the list in order to connect the Server permanently. OEM License Benefits USB over Network functionality can be easily integrated into your application. So you can share USB devices or connect them up from your application directly. Read more… And Even More… Command line control support. Works with any virtual machines. Mixed 32 and 64-bit environment. Single-user and multi-user environments support. Hyper-V compatible. Compatible with 3D mouse by 3Dconnexion. Other solutions.
Product Graphics
USB over Network Icon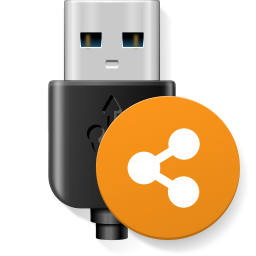 USB over Network icon, large

USB over Network icon, small
USB over Network Screenshots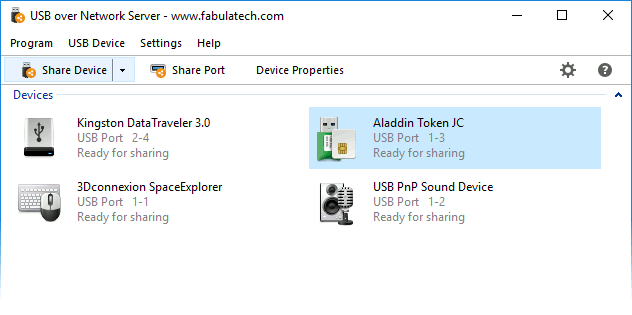 USB over Network Server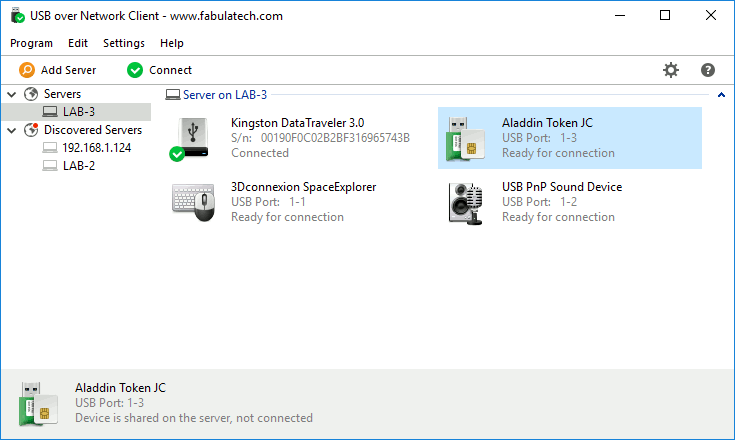 USB over Network Client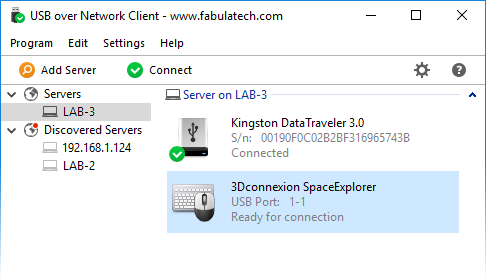 USB over Network Client
Client and Server

Infographics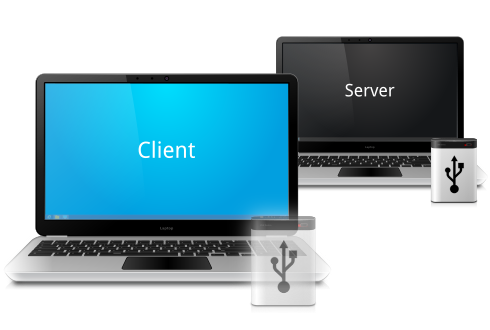 Infographics
Product Links